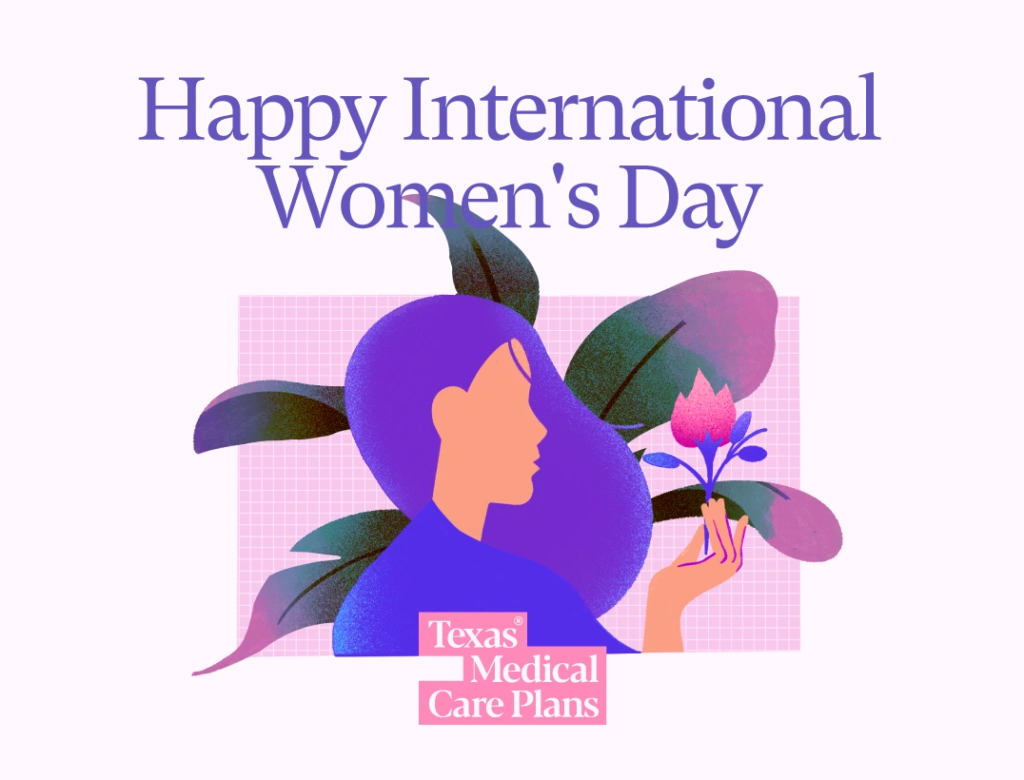 March 8 every year is designated by the United Nations as International Women's Day. The existence of international days is older than the United Nations, but the UN has adopted them as powerful tools for advocacy. International Women's Day is a day when people all over the world celebrate the social, economic, political, and cultural achievements of women. The day is an excellent opportunity to highlight and address the various challenges facing women in all parts of the world.
This article focuses on how women of all ages under Medicare and Obamacare can take advantage of their health insurance to have better control of their overall health. We at Texas Medical Care Plans (TCMP) believe that the best way to celebrate International Women's Day is by taking care of your overall well-being, including mental and emotional health.
Celebrate International Women's Day by taking care of your overall health.
Women of all ages can celebrate International Women's Day in several ways. But an essential way to celebrate is to explore the best avenues to be in sound health within the celebration period and beyond. Here are some ways women in El Paso, Texas, and other parts of the US can achieve this.
Things to know. 
Before the ACA was legalized, a number of unique obstacles stood in the way of women when it comes to adequate healthcare. For instance, women had to contend with a discriminatory and exploitative policy known as "gender rating."

Under this policy, women could pay as much as 1.5% more than men when seeking insurance coverage from individual market health insurers who also considered pregnancy as a pre-existing condition.

This discriminatory practice of making women pay higher fees than men for the same coverage was estimated to cost women around USD 1 billion annually as of 2012.
Also, vital women's health benefits were excluded from pre-ACA plans.
For example, 62% of those enrolled in the individual market had to make do with plans that excluded maternity coverage.

Not only did the ACA ban gender rating, but it also formally stopped the discrimination of individuals with preexisting conditions (medical underwriting) by insurers.

Ending discrimination is a significant protective cover for women since 1 in every 2 girls and nonelderly women is coping with a preexisting condition.
Furthermore, the ACA directs that plans should incorporate maternity coverage as well as provide important preventive health checkups or services without cost-sharing.
Some of these preventive services include screenings for cervical cancer; interpersonal and domestic violence; breastfeeding support services and supplies; as well as yearly well-woman visits.

Around 61 million women all over the US can now enjoy access to contraception without having to incur any out-of-pocket cost, thanks to the ACA. Research indicates that the ACA contraception assistance has saved women not less than USD 1.4 billion every year on birth control drugs alone.

In recognition of the need for policy changes aimed at supporting maternal and infant health, the ACA directs employers to provide break time for breastfeeding women and privacy for breastfeeding during work period.
Enjoy Cost Reduction for Senior Medicare Beneficiaries
Through the ACA, senior citizens have enjoyed wellness visits, free screenings for cancer, and other preventive services. In addition, the ACA has also boosted the Medicare Program by facilitating the establishment of the Center for Medicare and Medicaid Innovation. The Center is tasked with evolving ways through which the costs of obtaining health care can be reduced, and overall patient care improved.
Access More Prescription Drugs Than Before
Prescription drugs are important for effective and timely treatment. You'll enjoy a wide range of prescription drugs when you enroll in the ACA or Medicare. As noted above, these drugs have been made very affordable for enrolled.
Join Millions of Lower-Income Americans to Enjoy Access to Healthcare due to the Expansion of Medicaid
As of 2022, the only states that had yet to embrace the ACA-induced expansions in Medicaid were Texas, Kansas, Alabama, South Dakota, Florida, Georgia, Tennessee, Mississippi, Wyoming, North Carolina, South Carolina, and Wisconsin. The expansionist policy has succeeded in providing coverage for an additional 12.7 million individuals as of 2020. In April 2022, a report by the U.S. Department of Health and Human Services estimated that the total enrollment for Medicaid expansion, marketplace coverage, and the Basic Health Program in participating states had reached an all-time high of over 35 million people.
Being a lower-income woman is no longer an excuse to shy away from a health plan. TCMP can help you join the 12.7 million individuals the have already benefitted so that you can also access several kinds of preventive and other ACA services that will keep you healthy for a long time, allowing you to celebrate many International Women's Days.
International Women's Day is a day when people all over the world celebrate the social, economic, political, and cultural achievements of women. The day is a good opportunity to focus on solving the various problems facing women. While they celebrate their day, US women of all ages under Medicare and Obamacare can take advantage of their health insurance to exercise greater control over their overall health.
"With a record-breaking total of over 35 million people who now have health coverage, thanks to the Affordable Care Act, America's uninsured rate is nearing an all-time low," These are the words of US Health and Human Services Secretary Xavier Becerra.
Having health insurance protects both the insured person and their family from bankruptcy and also ensures peace of mind in case of the unexpected. At Texas Medical Care Plans, your family, friends, and colleagues still have the opportunity to enroll in a health plan. Simply provide us with their contact information today so that we can chat with them. Alternatively, they can also contact TMCP at (915) 781-1614 for advice on the various no-cost benefits they can enjoy!